Alternate header for print version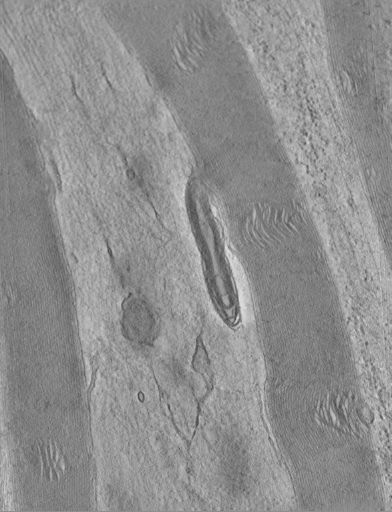 Display image description

Single computed slice through a tomographic volume of mitochondria at the Node of Ranvier in rat peripheral nerve root
Full resolution image description

Zip file containing the tomographic reconstruction in Analyze 7. 5 (hdr.img/hdr) and IMOD (.rec) format
Volume_dimension

980, 1280, 116
Animation description

Animation of the computed slices through a tomographic volume of mitochondria at the Node of Ranvier in rat peripheral nerve root
---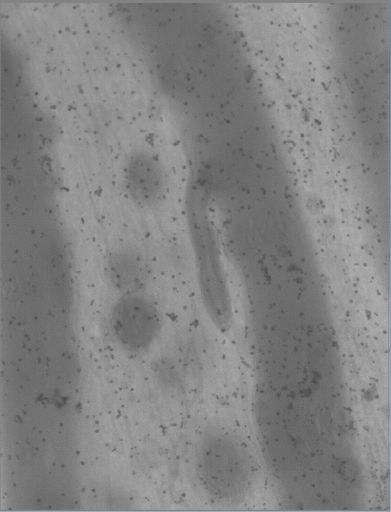 Display image description

Single tilt image from a single axis tilt series through mitochondria at the Node of Ranvier of peripheral nerve root from rat. The dark speckles are gold particles that were applied to the surfaces to serve as fiducial marks for subsequent alignment.
Full resolution image description

Stacked unaligned raw images in IMOD format
---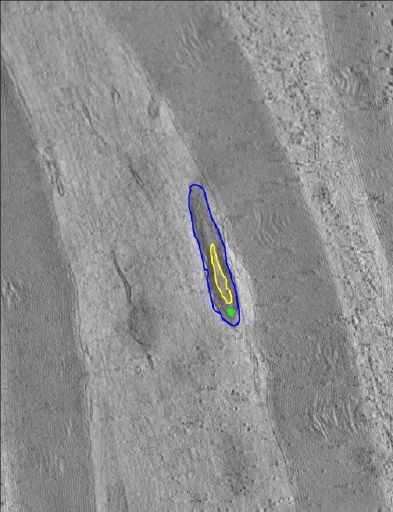 Display image description

Manual segmentation of mitochondrial outer membrane and cristae using Xvoxtrace 2.17
Segmentation file description

Zip file containing the manual tracings in Xvoxtrace (.trace) along with the surface rendered objects in synu format (.synu) and the Viewdata file required by Synu. Segementations were performed on the Analyze 7.5 version of the reconstruction available from the reconstruction download section. The Xvoxtrace and Synu programs that were used to create this data are no longer supported. The Jinx tool (see CCDB tool list) can read the Xvoxtrace format and export the surfaces in multiple formats.
---
License
Project name

Morphology of mitochondria in peripheral nerves
Description

Study of morphology of quantitative morphology of mitochondria in the peripheral nerve of the adult rat using 3D electron microscopy
Funding agency

National Institute of Neurological Disorders and Stroke, National Center for Research Resources, National Institute of Diabetes and Kidney Diseases, National Library of Medicine
Leader(s)

Mark H. Ellisman
Guy A. Perkins
Experiment
Purpose

Comparison of high pressure freezing and conventional fixation on mitochondrial structure using electron tomography
Experimenter(s)

Guy Perkins
Microscopy product
Microscopy product ID

8139
Subject
Scientific name

Rattus norvegicus
Tissue section
Anatomical location

spinal root
Specimen description
System

peripheral nervous system
Imaging parameters
Type

Electron microscopy product
Specimen preparation
Protocol used

Chemical fixation with 2% paraformaldehyde and 2.5% glutaraldehyde via vascular perfusion in 0.15M cacodylate buffer (pH 7.4) at 37 degrees C followed by high pressure freezing and freeze substitution using a Bal Tec HPM010 high pressure freezer (from Perkins et al., J. Structural Biology 161, 469, 2008).