Alternate header for print version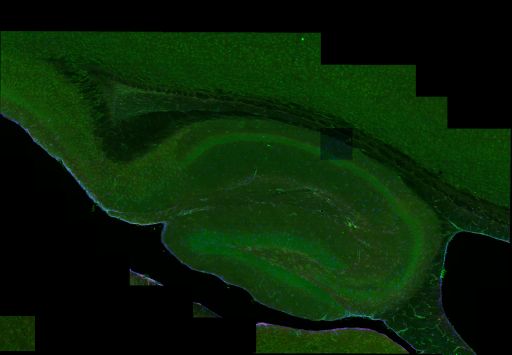 Display image description

Wide field mosaic of mouse hippocampus immunolabeled for pannexin 1 (green), GFAP (blue) and connexin 43 (red). The section was also counterstained with DAPI (not shown).
Full resolution image description

176 tiles (16x11) were digitally stitched together to generate a 3D mosaic montage of the mouse hippocampus labeled with three different antibodies (Green = Pannexin1 protein, Red = Connexin43 protein, Blue = GFAP protein within astrocytes). This zipped tar file contains 24 reconstructed mosaic images (file names labeled 00-23), one for each of the 24 optical Z-sections that were acquired with a step distance of 0.5 microns. Additionally, the zip file contains a mosaic 2D maximum intensity projection of all 24 Z-sections (file name containing "proj").
Downsampled image description

This image is a mosaic 2D maximum intensity projection of all 24 Z-sections. Voxel scale for this flattened projection of the mosaic hippocampus is 0.41 x 0.41 x 11.5 microns/pixel. The tiles in this image have been normalized, but the colors in the resulting image have not been adjusted.
Volume_dimension

14914, 10341, 24
Volume scale

0.41, 0.41, 11.5
---
License
Project name

Pannexin protein expression in mouse brain tissue
Description

A neuroinformatics approach to pannexin expression, localization, and interaction with other brain proteins. This research aims to examine brain tissue at high resolution and, in combination with developing neuronformatics tools, to probe for binding partners and signalling partners to investigate the pannexin "interactome". Data submissions for this project will consist of wide-scale high resolution confocal mosaic images of triple-labeled whole mouse brain sections. Pannexin 1 expression will be compared to that of pannexin 2 as well as the connexins. Other putative interaction partners of interest include the P2 purinergic receptors and components of the cytoskeleton.
Leader(s)

Dr. Angela Cone
Collaborator(s)

Dr. Gina Sosinsky
Dr. Maryann Martone
Experiment
Experiment date

12-22-2008
Title

Panx1 compared to Cx43 and astrocyte labelling
Purpose

Panx1 compared to Cx43 and astrocyte labelling
Experimenter(s)

Dr. Angela Cone
Microscopy product
Microscopy product ID

6674
Instrument

Olympus Fluoview1000
Microscopy type

LASER SCANNING CONFOCAL
Image basename

12222008Slide1Hip
| Spatial Axis | Image Size | Pixel Size |
| --- | --- | --- |
| X | 1024px | 0.41 um/pixels |
| Y | 1024px | 0.41 um/pixels |
| Y | 24px | |
Subject
Scientific name

Mus musculus
Tissue section
Microtome

vibratome sectioned
Tissue product storage

cryoprotectant
Specimen description
System

central nervous system
Atlas coordinate

0, 0, 0,
Imaging parameters
Type

Light microscopy product
Lens

Olympus PlanApo 60X oil
Specimen preparation
Protocol used

Rabbit Cx43 antibody (Sigma) 1/600Guinea pig GFAP antibody (discontinued) 1/600Chicken Panx1 antibody (4515) 1/25072hour incubation at 4C.Secondaries:DAR-Al647DAGP-RRXDAC-FITC2.5hours incubation at room temperature.
Imaging product type
Description

Hippocampus region of 50 micron sagittal section of mouse brain