Alternate header for print version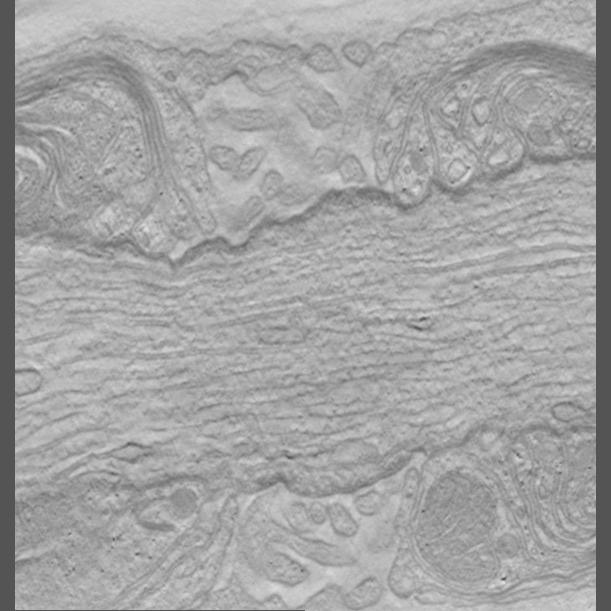 Display image description

Single slice through a single tilt tomogram of the Node of Ranvier from mouse sciatic nerve
Full resolution image description

Tar file containing merged volume of a serial tomogram of a peripheral nerve node of Ranvier in Analyze 7.5 format
Volume_dimension

611, 611, 299
Volume scale

0.01, 0.01, 0.015
---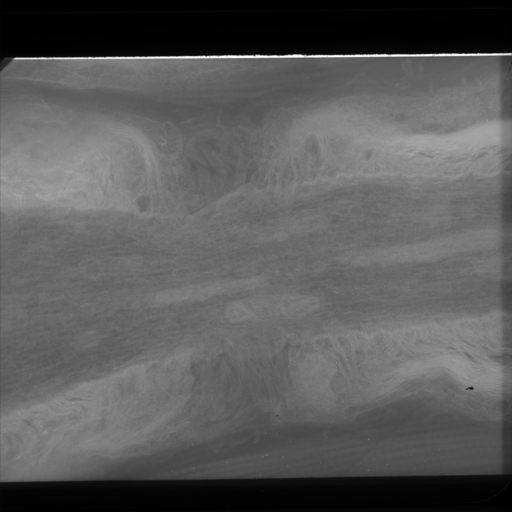 Display image description

Single tilt image (zero degree tilt) from the second of 3 serial single tilt series through the Node of Ranvier
Full resolution image description

tar file containing tilt images from 3 serial tilt series
---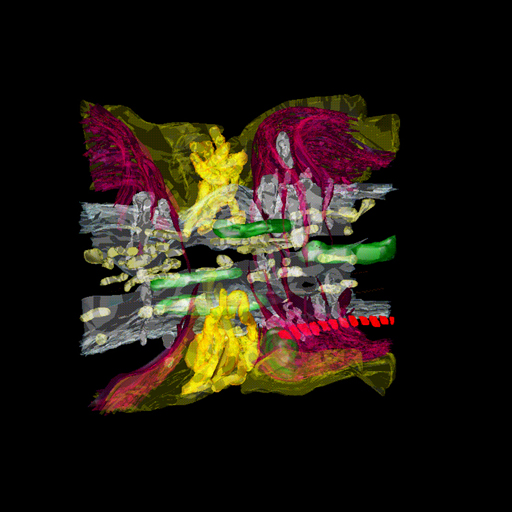 Display image description

Manual segmentation of neuronal and glial components of the Node of Ranvier using Xvoxtrace. Objects were surfaced using Synu.
Segmentation file description

Tar file containing the surfaced objects in Synu format (*.synu) and the Viewdata file required for viewing using Synuview. The original trace file (*.trace) containing the manual contours and selected images of surface renderings are also included.
---
License
Project name

Dynamics of membrane organization at the node of Ranvier
Description

Serial tomogram of a conventionally prepared peripheral nerve Node of Ranvier
Leader(s)

Mark Ellisman
Gina Sosinsky
Experiment
Experiment date

12-15-1999
Title

Serial section electron tomography
Purpose

Structure and modeling
Experimenter(s)

Gina Sosinsky
Tom Deerinck
Microscopy product
| Spatial Axis | Image Size | Pixel Size |
| --- | --- | --- |
| X | 800px | 50 nm/pixel |
| Y | 1000px | 50 nm/pixel |
Subject
Scientific name

mus musculus
Tissue section
Anatomical location

dorsal root
Microtome

Leica Ultracut UCT
Tissue product storage

Processed directly
Specimen description
System

peripheral nervous system
Structure

Node of Ranvier
Imaging parameters
Type

Electron microscopy product
Accelerating voltage

400 KeV