Alternate header for print version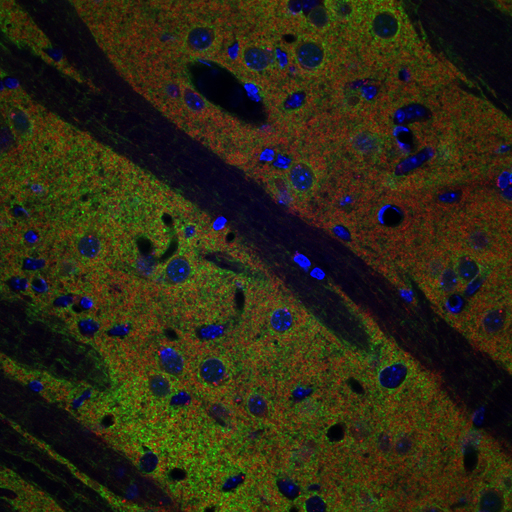 Display image description

Triple labeled confocal image of the neostriatum of a transgenic mouse engineered to overexpress a mutant form of human alpha synuclein (A53T), immunolabeled for mGluR5 (red), alpha synuclein (green) and counterstained with DAPI (blue) to reveal cell nuclei.
Full resolution image description

Zip archive containing the 3 channel image file in tiff format (112006aaaaaa_RGB.tiff). Also included are the .oif header file generated by the Olympus Fluoview, which give additional detail on microscope settings and the downsampled display image in jpg format.
---
License
Project name

Localization of Metabotropic Glutamate Receptors in Alpha Synuclein Overexpressing Mouse
Description

Characterization of staining for mGluR5 glutamate receptor in animal model of Parkinsonian disorders
Funding agency

Branfman Family Foundation
Collaborator(s)

Edward Rockenstein
Eliezer Masliah
Mark Ellisman
Experiment
Title

Comparison of mGluR5 and synuclein staining
Purpose

To determine the relationship between mGluR5 and alpha synuclein staining in different lines of alpha synuclein overexpressing mouse
Experimenter(s)

Diana Price
Microscopy product
Microscopy product ID

4048
Instrument

Olympus Fluoview 1000
Microscopy type

laser scanning confocal
Image basename

112006aaaaaa
| Spatial Axis | Image Size | Pixel Size |
| --- | --- | --- |
| X | 1024px | 0.207 um/pixels |
| Y | 1024px | 0.207 um/pixels |
Subject
Scientific name

mus musculus
Group by

genetic modification
Treatment

Expression of A53T mutated form of alpha synuclein
Tissue section
Anatomical location

unknown
Specimen description
System

central nervous system
Imaging parameters
Type

Light microscopy product
Mounting medium

Prolong (Molecular Probes)
Lens

Olympus PlanApo 60X oil
Notes

DAPI was added to the mounting medium
Specimen preparation
Protocol used

Specimen processing: Tissue section acquisition from transgenic animalsAnimals were deeply anesthetized with Nembutal (pentobarbital) and perfused via intracardiac catheterization. Perfusion with oxygenated Ringer's solution containing 250U/ml heparin, 0.2 mg/ml xylocaine and 1% dextrose was followed 4% paraformadehyde in 0.1 M phosphate buffer solution (PBS) (both at 37 degrees Celsius). The brains were carefully removed from the skull and postfixed for 1 hour in the same fixative used in the perfusion. The brain was blocked and cut into 2 mm thick sections using an acrylic brain matrix (David Kopf; Tujunga, CA) to facilitate reproducibility of sections. These thick sections were then sectioned into 80 micron thick coronal sections using a Vibratome (VT1000E, Leica Microsystems, Wetzlar , Germany). Specimen processing: Immunocytochemistry Tissue sections were incubated with monoclonal anti- a-syn (1:250; BD Transduction Laboratories, San Diego, CA, Catalog #AB610787) and rabbit anti-mGluR5 (1:250; Chemicon, Temecula, CA, Catalog #AB5675) followed by incubation with donkey anti-mouse Alexa Fluor 488 (1:100, Molecular Probes, Carlsbad, CA) and donkey anti-rabbit RRX (1:100, Jackson Immunoresearch Laboratories, Inc., West Grove, PA, USA) overnight at 4C. The immunolabeling procedure consisted of the following steps: (1) 6x5 min rinses in 0.1 M PBS; (2) 1 hr blocking step in PBS containing 3% normal donkey (NDS), 0.1% Triton X-100, 1% fish gelatin, and 1% BSA; (3) 48 hr incubation in primary antibodies diluted in working buffer (PBS, 1% NDS) at 20 degrees C; (4) 6 x 5 minute rinsed in working buffer; (5) 24 hr incubation in working buffer containing donkey anti-mouse Alexa Fluor 488 (Molecular Probes, Carlsbad, CA) and donkey anti-rabbit RRX (Jackson Immunoresearch Laboratories, Inc., West Grove, PA, USA). (6) 6 x 10 min rinses in working buffer; (7) 3 x 10 min rinses in PBS; (8) the sections were free floated onto slides and coverslipped using ProLong mounting media (Invitrogen Molecular Probes, Carlsbad, CA) with DAPI nuclear stain. Controls for the mGluR5 antibody experiments included both preabsorption with the control peptide (Chemicon, Catalog #AG374), as well as primary omission studies, which both revealed a lack of non-specific staining. Controls for other antibodies used were performed via omission of primary antibodies, and revealed no non-specific staining. All steps were conducted at 4 degrees C, on wet ice and with ice-cold solutions.
Imaging product type
Description

Only a single optical section was taken for this image
Imaging product type
Description

survey sections of different regions of brain
---
---