Alternate header for print version
---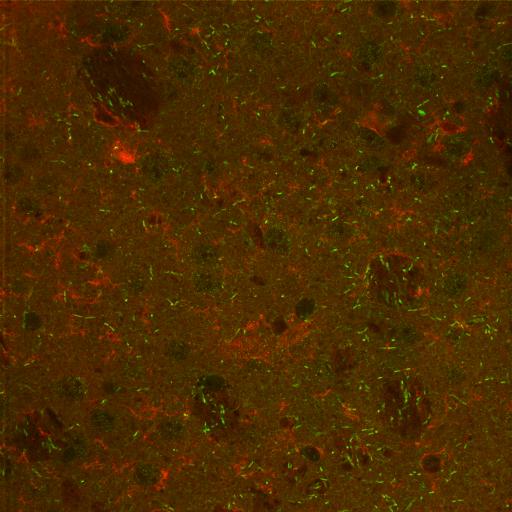 Display image description

Confocal image of dorsal lateral striatum from a wild type mouse to compare to DATKO mice, immunolabeled for VMAT2 (red) and DARRP32 (green).
Full resolution image description

Zip file containing the tiff image of the combined immunolabeled channels (012605f_combined.tif), the unmerged images of the immunolabeled channels in BioRad Pic format (012605f_raw.pic) and a text file listing statistical analysis of the images (012605f_stats.txt).
---
License
Project name

Correlative microscopic characterization of dendritic spines in a transgenic mouse model of hyperdopaminergia: The dopamine transporter knockout mouse
Description

Multiscale characterization of DAT KO transgenic mouse
Collaborator(s)

Aki Laakso
Michele Cyr
Maryann Martone
Naoko Yamada
Andrea Thor
Monica Berlanga
Experiment
Experiment date

09-17-2003
Purpose

Immunocytochemical localization of VMAT+DARPP-32
Experimenter(s)

Diana Price
Microscopy product
Microscopy product ID

4003
Instrument

BioRad 1024 MRC Confocal
Microscopy type

laser scanning confocal
| Spatial Axis | Image Size | Pixel Size |
| --- | --- | --- |
| X | 1024px | |
| Y | 1024px | |
Subject
Scientific name

mus musculus
Group by

Genetic manipulation
Tissue section
Anatomical location

dorsal lateral striatum
Imaging parameters
Type

Light microscopy product
Specimen preparation
Protocol used

P1207: Experiment #3 DAT KO Mouse 9/17/03Description: Immunolabeling study of VMAT+DARPP-32+Hoescht 33342Animals: Brains sent from Duke University 9/10/03 (wt 1&2, tg 1&2 = 4 total)Protocol1. Perfusion (at Duke U.)Nembutal; 4% paraformaldehyde + 0.1% gluteraldehydeSectioned on Vibratome at NCMIR (80 microns)2. Wash 3x with PBS 1X (on ice) 3x @ 10min1 1st1 2nd1 3r3. Make up blocking bufferPBS w/o NaCl = buffer usedTotal amount needed = 33 x 2 mlsDouble the following:Ingredient Amount0.8 PBS 6.6 ml 5X PBS + 24.2 ml 2x distilled H203% NDS (24 , 7/4 )0.96 ml1% fish gel 3.3 ml0.3% Triton X-1000.0996 ml1% BSA 0.33 g4. Block slices (2 hr) in blocking bufferTime started = 12:40 pm 9/17/03Time ended = 2:50 pm 9/17/035. Make up working buffer" Use blocking buffer to dilute to working bufferIngredient500ml200ml150ml100mlBlocking buffer50 ml20 ml15 ml10 ml0.1% Triton0.5ml0.2 ml0.15 ml0.1 ml1X PBS450 ml180 ml135 ml90 ml6. Wash 1X5 minutes with working buffer: 17. Add 1o Abs diluted in working bufferanti-VMAT-2; Host = guinea pig; 1:500 (Oncogene, catalog # 503-01-50)anti-DARPP-32; Host = mouse; 1:500 (BD Transduction Laboratories, catalog #611520)8. Place on shaker in cold room labeled & covered with aluminum foil overnightTime started = 4:30 pm 9/17/03Time ended = 10:30 am 9/18/039. Wash 3x with working buffer 3x @ 10min1 1st1 2nd1 3rdh10. Prepare 2o Abs : all 1:100donkey mouse AF488 (Molecular Probes, Cat #A21202)donkey guinea pig RRX (Jackson Immunoresearch Laboratories, Inc)11. Let sit on shaker covered with foil for 2 hrs at RTTime started = 12:35pm 9/18/03Time ended = 2:50pm 9/18/0312. Wash 3x with 1X PBS 0.8 3x @ 5min1 1st 1 2nd1 3rd13. Prepare nuclear stain (Hoescht 1:1000 for 15-30 minutes)14. Wash 3x with 1X PBS 0.8 3x @ 10min1 1st1 2nd1 3rd15. Mount sections on slides and coverslip using gelvatol16. Dry flat in fridge 24-48 hours and seal with nail polish
Imaging product type
Description

Only a single optical section was acquired for each image.
Imaging product type
Description

Survey sections through different brain regions
---
---