Alternate header for print version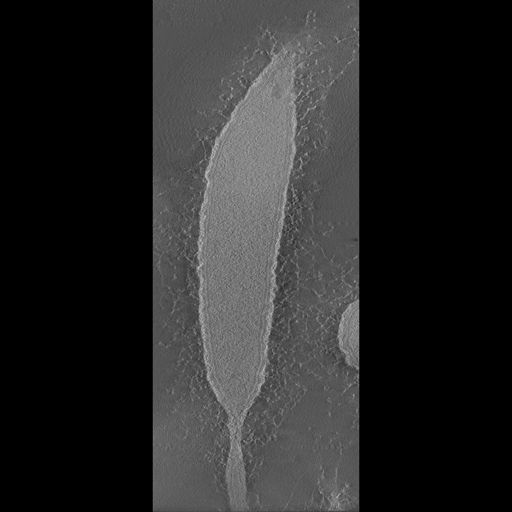 Display image description

Image from the reconstructed volume of the Caulobacter Crescentus specimen. This particular image was taken from Z-slice #307
Full resolution image description

.tar file containing just the mrc file format of the tomographic reconstruction from the acquired tilt series.
Volume_dimension

970, 2868, 301
Animation description

A .mpg file of the slice-by-slice reconstructed volume of the Caulobacter Crescentus specimen.
---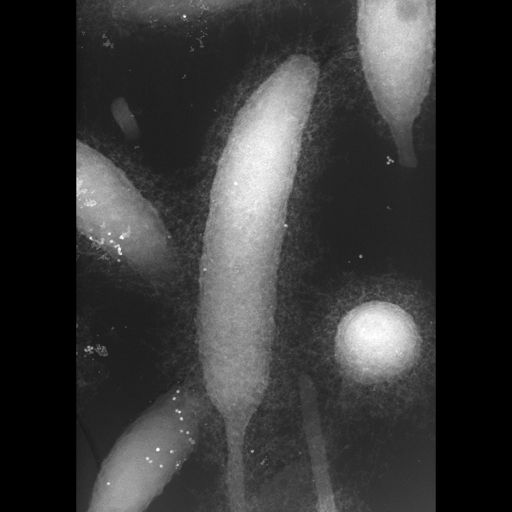 Display image description

Image of a Caulobacter Crescentus specimen from dataset caulo2. Image is taken at 0 degrees from the tilt series.
Full resolution image description

All files necessary for reconstruction from tilt series to final tomogram using TxBR. Included are a .preali file, .fid, .rawtlt along with other relevant files and processing notes. Reconstruction using IMOD can still be done using these files.
Animation description

A .mpg file of the acquired and aligned tilt series of the caulobacter crescentus specimen
---
License
Description

Tomography of Caulobacter crescentus
Funding agency

Department of Energy
Leader(s)

Lucy Shapiro
Harley McAdams
Collaborator(s)

Patrick H. Viollier
Tom Deerinck
Mason Mackey
John Crum
Mark Ellisman
Experiment
Experiment date

05-12-2004
Title

Tomographic reconstruction of caulobacter
Purpose

Produce a series of tomographic data of the normal morphology of Caulobacter Crescentus using rapid freezing methods.
Experimenter(s)

Patrick Viollier
Tom Deerinck
Microscopy product
Microscopy product ID

3645
| Spatial Axis | Image Size | Pixel Size |
| --- | --- | --- |
| X | 2242px | 1 nm/pixels |
| Y | 3340px | 1 nm/pixels |
Subject
Scientific name

Caulobacter crescentus (NA1000)
Specimen description
Cell type

Caulobacter crescentus
Imaging parameters
Type

Electron microscopy product
Accelerating voltage

400 kV
Notes

Tilt series taken on JEOL 4000 #1
Imaging product type
Notes

Single tilt tomogram of a Caulobacter Crescentus Tomogram. HPF FS specimen #NA1000.