Alternate header for print version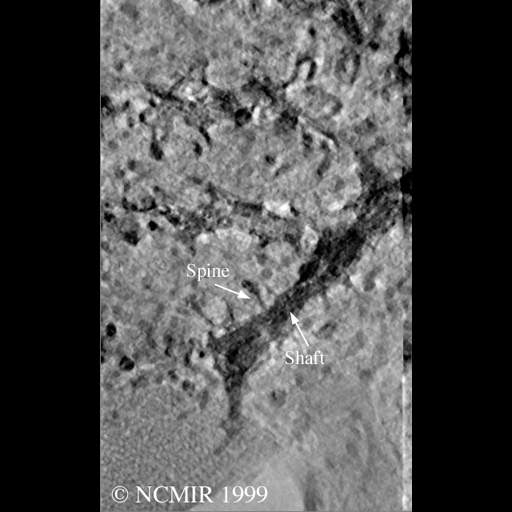 Display image description

SIngle computed slice through tomographic volume of selectively stained Purkinje cell spiny dendrite from rat cerebellar cortex.
Full resolution image description

Zip file containing compressed volume in Analyze 7.5 format. File contains both .hdr and .img files.
Volume_dimension

390, 640, 220
Volume scale

0.021, 0.021, 0.021
Animation description

Animation through computed slices of tomographic reconstruction of a selectively stained Purkinje cell spiny dendrite.
---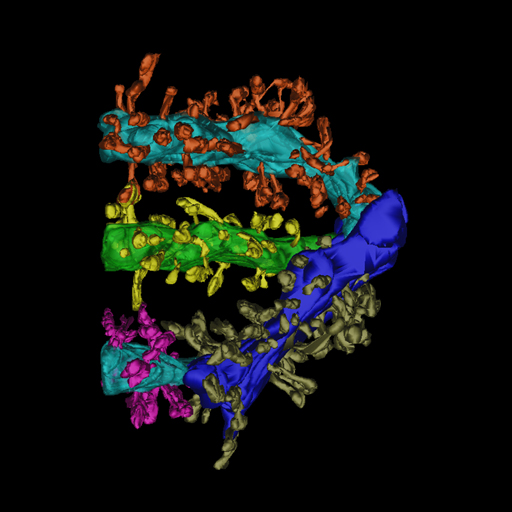 Segmentation file description

Zip file containing the original trace file (osaka1.r.trace), the surfaced objects (*.synu) and the Viewdata file required to view them using Synu.
---
License
Project name

Correlated Microscopy of Dendritic Spines
Description

Measurements of spine parameters using light microscopy and electron tomography
Leader(s)

Maryann Martone
Collaborator(s)

Naoko Yamada; Gordun Arbuthnott; Cali Ingham; Stephen Young
Experiment
Purpose

how well dendritic spines can be detected and measured using LM
Experimenter(s)

Naoko Yamada
Microscopy product
Microscopy product ID

3494
Instrument

Hitachi 3MeV UHVEM
Subject
Scientific name

rattus norvegicus
Tissue section
Anatomical location

cerebellum
Specimen description
System

central nervous system
Cell type

Purkinje neuron
Imaging parameters
Type

Electron microscopy product
Accelerating voltage

3 MeV
Specimen preparation
Protocol used

Intracellular injection with Lucifer Yellow followed by photooxidation.
Imaging product type
Notes

Specimen was pre-irradiated prior to imaging